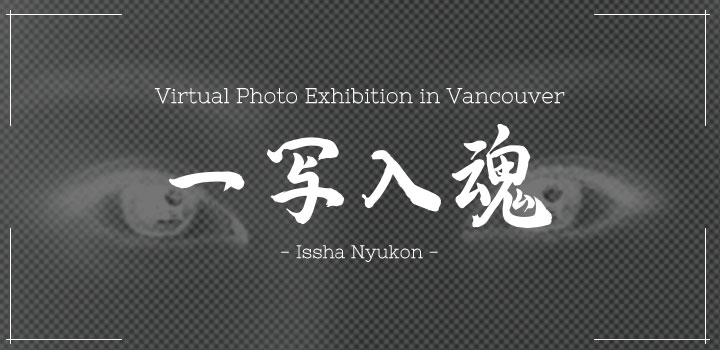 Issha Nyukon is a group of Nikkei photographers who live in and around Vancouver, BC. It consists of some professional and amateur photographers who love taking photographs. The name of the group, "Issha Nyukon" means that you put your heart and soul into a photograph you take. "The word, "Nikkei" means "Japanese or related to Japan". The group had their exhibitions in Vancouver in 2015, 2018 and 2019. They also had exhibitions in Tokyo in 2016 and 2019. This is their very first virtual photo exhibition.
Hailed from Tokyo, have been living in Vancouver since 1995.
My first camera was a hands-me-down Pentax from my father. As a student of art history major, photography was an indispensable tool for research and study then.
With the digital technology today, I can enjoy taking photos, shoot whatever object I want to record visually, for fun.
Born in Okayama, Japan. Certified Vegetable Sommelier. Work as a editor / writer at a Vancouver based marketing company. Love taking pictures of vegetables and fruit and discovering rare produce from all over the world. SNS addict.
Kai is certified in Animal Massage therapist, Animal Reiki Master/teacher, Animal Communicator, Human Holistic Ear Reflexologist.

Since a young age, she has been very sensitive to many different energies on this earth. She's been helping people and animals to release their blockages and align chakras in mental, physical, and emotional health.
https://powerpaws.ca/
Taking pictures has been one of her favourite things since the age of 15, but never has taken any photography courses nor understanding how the camera works. 
During her free time, she takes her cameras to go out to nature, especially to the forest and the oceans.
She writes articles and pictures at https://www.ojha-angel-vancouver.net/author/kai/
She is also involved with protecting marine life and its environment.

https://www.facebook.com/groups/2556688081243435/
Kasumi Kanaya was born and raised in Japan, and has been living in Canada since 2012. Since she moved to Canada, she uses her fashion industry background in Japan into her photography as a way of expressing herself and bringing out the best in her subjects. Through constant research for new techniques and attention to lighting, composition and detail. She is always looking for new and creative ways to bring uniqueness into her portrait photography.
I was born in Akashi, Hyogo, came to Vancouver in 2010 and opened
COCONAMA CHOCOLATE
.
I'm usually a chocolate engineer, sometimes take photos just for fun!
I have been capturing ravishing Photography & Cinematography images around the world with a passionate eye and exceptional skills. I'm a principal photographer for Major NEWS MEDIA serving the local, national and international communities. I was also the designated Sports Event photographer for the Japanese news media during the Olympics/Paralympics, CANADA Winter Game, ITU World Triathlon Race & World Cup Women's Soccer. I try to create Pictures & Movies that reflect your genuine and unique nature, to capture moments and impressions that you will really love and be proud of for a lifetime.
I'm a writer and started taking photographs to go with travel stories for magazines. Somebody once said a camera teaches you to see without a camera, and that has been its greatest gift to me. Finding subjects that would look good in black and white always excites me, as taking away color reveals something else, something more fundamental. I love the way it brings out the texture and bulky character of this Terra Delyssa olive oil bottle. Yes, it really is as heavy as it looks.
My photographies are mostly outdoor nature around the world. I have climbed Mt. Kilimanjaro, hiked to Mt. Everest base camp, trekking around Mt. Monblanc. cycled in Spain, Germany, Austria and Hungary, canoed Yukon River. Recently I finished pilgriming Shikoku (OHENRO), Japan.
Though born and educated in Tokyo, I was indifferent to the typical life that majority of my own generation pursuit, I had no single interview with prospective companies or institutions.  Instead, I searched some personal satisfaction in life abroad, particularly in the English- speaking countries. While I was in university, I belonged to the Theatre Club.  One day an opportunity arrived to fulfill my desire. Upon a recommendation of the club and the university, I was able to travel to attend and participate the International Cultural Festival in Istanbul, Turkey, and every program was conducted in English.
As it was the first time traveled outside of Japan, everything was so new and exciting that I hardly remember what I spoke to the audience at the first official gathering, let alone how I replied to their questions. Fortunately, a couple of Turkish students assisted me kindly all the way to the last day.
The Turkish college auditorium was not as exotic as those ancient Turkish public buildings.  Amazingly, however, living space in the university dormitory, particularly spaces such as bathroom, it took some time to get used to: embarrassingly, you squat on a slightly raised block of stone over running water and, as you finish, wash yourself with your own hand. I reluctantly practiced this new bathroom technique first, but soon enough I perfected it.
Decades later, traveling around the Mediterranean, I tried to locate the places where I had spent several days as a young student. It proved unsuccessful, but these magnificent monuments I admired then still stand today.
I love the challenge of capturing extraordinary photographs of ordinary subjects.
Noriko is Japanese born, and has lived in Vancouver more than 25 years.
She studied photography underseveral respected teachers and photographers.
worked as wedding photographer.
Noriko has volunteered her time to community endeavours such as the Kerrisdale community society, and the sir John A. Macdonald historical Society.
Currently working with Vancouver School Board.
Ojha Emu Goto was born in Tokyo. She studied Japanese literature at Bunka Gakuin University. She then worked as a writer for the publisher by the name of Magazine House, and subsequently for "an an", "Croissant" and "Hanako". At the same time, she was active as a graphic designer and an advertising copywriter. She moved to Vancouver where she studied at Focal Point Photography School. She has since held numerous photo exhibitions. Above all, the most notable one was "The Voice of Queen Charlotte". Focusing on photos of the virgin forest and the remains of the indigenous Haida people on Queen Charlotte Island she visited the previous year, she also exhibited some photos of capturing a bald eagle and whales. She used creative ideas on the display to convey the touch of nature. Many naturalists who love nature also visited the exhibition. She successfully created an atmosphere like being lost in a forest. The sales of photographs in this exhibition reached a record high, and one third of the works were sold. Most of the purchasers were inspired by the energy of the forest that was emitted from the photos. Many people said that they found a favorite photo which they wanted to keep for themselves.
Sammy Takahashi graduated from Osaka College of Photography. He studied photography under Ryohei Takizawa of Kokuga-kai. His speciality is abstract photography. His photos are characterized by the use of bright colours.
He started taking photos in order to escape from reality when he first started to learn photography. He then became fascinated by the fact that he could capture a moment forever freezing time. He believes what is critical to take a great shot is the following. The most important thing is to make the best use of light and shadow. Another important thing is to create a good composition. The rest is to express your feelings into your photograph.
I am a photographer based in Vancouver, BC. CANADA🍁 My interest in photography developed in 2011 when I first came to Vancouver as part of the Work Holiday program. What started off as a hobby soon turned into something I truly love and am passionate about. While I enjoy taking photos and creating something pleasing to look at, I also hope to inspire others through my photographs by capturing moments that are moving and meaningful. I hope people are able to get a better sense of what a "Good Life" is through my work
.
I have taken many photos for many years for fun.